WWM-1:
Welded wire mesh attached on the steel structure makes the tiger cage installation very fast.
Welded wire mesh is another popular zoo wire mesh besides chain link fence. The wire is available of hot dipped galvanized carbon steel wire, PVC coated wire and stainless steel. It can be manufactured into various sizes according to varying applications.
Hot dipped galvanized welded mesh
This welded mesh should go through a hot zinc covering process. Its square or rectangular mesh opening makes it excellent for housing birds and animals.
PVC coated welded mesh
PVC coated mesh means adding an extra protective layer of galvanized wire. The smooth PVC coating significantly enhances corrosive resistance.
Stainless steel welded mesh
Stainless steel welded mesh has high strength and integrity. It has the best corrosive resistance and is widely used in transportation, mining and entertainment.
Why choose welded wire mesh as zoo mesh?
Available to cut to any size.
Easy installation using common hardware.
Humane feature not hurting people or animals.
Galvanized and PVC coated are economical choices.
Stainless steel serves you much longer.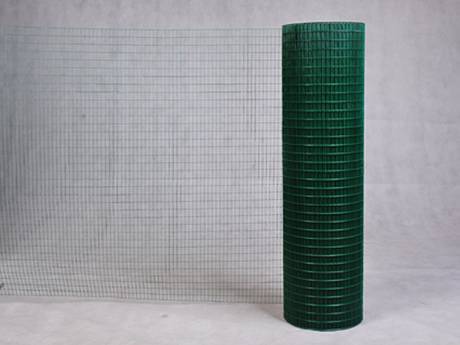 WWM-2:
PVC coating protects welded wire mesh being attacked by rains, snows and other corrosion.
WWM-3:
Stainless steel welded mesh exhibits excellent anti-corrosion property even being heavily scratched.
WWM-4:
Welded mesh for large birds
.
WWM-5:
Welded mesh for birds house.
Hot specifications ordered by customers:
316 stainless steel welded mesh, hole shape: rectangular, hole size: 72 mm × 12 mm, wire thickness: 2.5 mm.
Welded mesh 25 m × 25 m for budgies and finches. It can cover 40 meters. Large aviary at a hotel needs to be strong.
Many animals (mostly birds) need 1" × 1/2" aperture, 36" wide coated welded wire or hardware cloth.
A roll of 30 m of 1/2" × 1/2" welded wire with green PVC coating with 15 m width.
Welded wire mesh for building new factory and used at factory construction. Welded wire mesh, opening hole size: 15 × 15 mm, wire diameter: 6 mm, panel size: 2.2 m × 5.8 m and each panel weight about 37 kg.
Sturdy welded wire to build an outdoor aviary for your exotic bird sanctuary, 3 pieces 50' length × 14' high.
Needed for parakeets and cockatiel aviary. 1/2" PVC coated wire mesh, 48" height × 50' length.
Wire diameter 0.8 mm

In roll, mesh 25 mm, height 30 cm, length 50 m.
In roll, mesh 25 mm, height 50 cm, length 50 m.
In roll, mesh 51 mm, height 1 meter, length 50 m.
In roll, mesh 51 mm, height 1.5 m, length 50 m.
Inquiry for Our Product
When you contact us, please provide your detail requirements. That will help us give you a valid quotation.